Description
Samsung Level Wireless Speaker EO-SG900
Wireless Speaker
The Samsung Level Box Mini wireless speaker packs big sound quality and performance into a slim, colorful form factor. Stash the Level Box Mini in a backpack, purse or pocket and you'll be the life of the party when you arrive. Just tap your NFC-enabled Samsung Galaxy device to your Level Box Mini and turn up the fun.
Powerful and Clear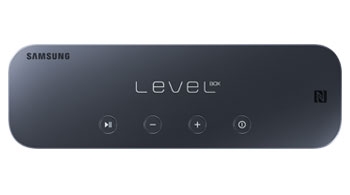 A combination of A2DP wireless streaming technology and built-in Samsung SoundAlive equalization give the Level Box Mini surprisingly bold, clear sound with bass resonance and range comparable to many larger speakers.
Fun and Flexible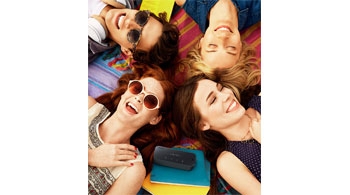 Pair the Level Box Mini with your device by tapping your NFC-enabled phone to the built-in NFC pairing touch zone and you're ready to rock. The built-in HD speakerphone will make sure you don't miss any important calls while you're listening.
Samsung Level App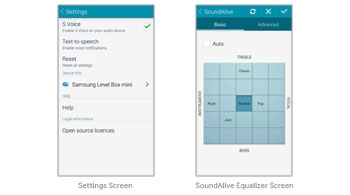 Use the Samsung Level App to access and control advanced settings, including SoundAlive, on your Level Box Mini from your paired Android device. Developed by Samsung, SoundAlive is a built in, specially optimized sound equalizer that allows users to get the most from their Level device with just the push of a button. While your music is playing, simply push and hold the right-most control button until you hear a beep. This toggles SoundAlive on for a richer, fuller sound. Repeat the process to toggle SoundAlive off.